Mailing Address:
Tualatin Historical Society
P.O. Box 1055
Tualatin, OR 97062
2018 Tualatin Historical Society Board
Executive Board:
Ross Baker, 2018 President
Kurt Krause, 2018 Vice-President

Barbara Stinger, Treasurer
Sandra Lafky Carlson, THS Historian
Directors:
Loyce Martinazzi, Local Tualatin Historian
Yvonne Addington, Local Tualatin Historian & Ice Age Committee Chair
Larry McClure, Heritage Center Director
Frank Bubenik
Norman Parker
Art Sasaki
Cathy Stockwell
Ask About Tualatin History
Email your questions to askabouthistory@gmail.com and we will do the research. Watch for changes to our website and facebook page where we will also harvest your questions in the future.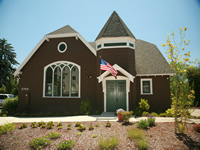 Tualatin Heritage Center
8700 SW Sweek Drive
Tualatin, OR 97062
The Center is open weekdays from 10:00 am - 2:00 pm and during special events.

Phone: 503.885.1926
email: Larry McClure, Tualatin Heritage Center Director
email: Cindy Frost, Tualatin Heritage Center, Manager